TORONTO, ONTARIO, January 16, 2017– Braveheart Resources Inc. (TSXV: BHT) ("Braveheart" or, the "Company") is pleased to announce that it has received a technical report recently completed on its Alpine Mine property near Nelson in southeastern British Columbia. The report was prepared by Bernhardt Augsten, P.Geo. on behalf of the previous owners of the Alpine Mine property just prior to its acquisition by Braveheart.
The report summarizes field work completed on the Alpine Mine property in the summer of 2016. The work was initiated with the purpose of attempting to trace out the exposed portion of the Alpine vein system to the west and northwest of known occurrences in the vicinity of the westerly termination of the Number 6 Level of the original Alpine Mine. From this point the Alpine vein structure was traced intermittently for approximately 1.8 km to the northwest. Evidence for this was the presence of in-situ auriferous quartz veining and quartz vein float. Samples collected along this traverse ranged in assay values from <0.03 g/t gold to 42.3 g/t gold.
As part of the 2016 exploration a successful attempt was made to relocate the drill collars from the 1989 diamond drilling program conducted by Cominco when they held an option on the Alpine Mine property. At that time Cominco drilled 12 holes for a total of 1,745.1 m from two setups on the northeast slope of the Alpine Mine property below the lowermost underground mine workings. Some of these holes were successful in intersecting the Alpine vein, notably hole AG89-12, which intersected 122.46 g/t gold over a core length of 0.7 m. This work was well-documented with detailed drill logs in a publicly available assessment report. The fact that the location of these holes is now precisely known allows Braveheart to use this data in their exploration strategy going forward (It also shows that the Alpine vein system exists approximately 400 m down dip of the lowermost underground mine workings).
The 2016 report also references relatively recent (2011) exploration on peripheral vein systems including the 'Black Prince', 'King Solomon' and the 'Gold Crown', which occur on the property but have received far less historical exploration. These three are former producing mines and are all located on the Alpine Mine property. Their approximate locations are shown on Figure 1.
The Black Prince is located approximately 3.1 km to the northwest of the main Alpine Mine area. Selected sampling of quartz veins in old mine dumps at the Black Prince returned up to 71.0 g/t gold and 34 g/t silver. At the King Solomon, quartz vein samples from old mine dumps returned up to 50.0 g/t gold and 42.2 g/t silver. The old King Solomon workings are located approximately 1.8 km to the south-southwest of the Alpine mine. At the old Gold Crown workings selected samples of partially oxidized sulphide-bearing quartz vein material from mine dumps returned 267 g/t gold and 47.6 g/t silver. The Gold Crown is located approximately 620 m to the southeast of the Alpine Mine area.
It should be noted that all samples (with the exception of the Cominco drill intercepts) are selected 'grab' samples and thus are not representative of the veins as a whole.
The relationship between these mineralized veins and the Alpine vein system is not known at this time; however, they will be part of ongoing work undertaken by Braveheart on the Alpine Mine property.
The 2016 samples were analyzed by Actlabs of Kamloops, British Columbia. All samples were analyzed by multi-element ICP; gold analyses were completed by fire assay with a gravimetric finish.
Figure 1
Location Map
Braveheart's Alpine Mine Property (shaded in blue)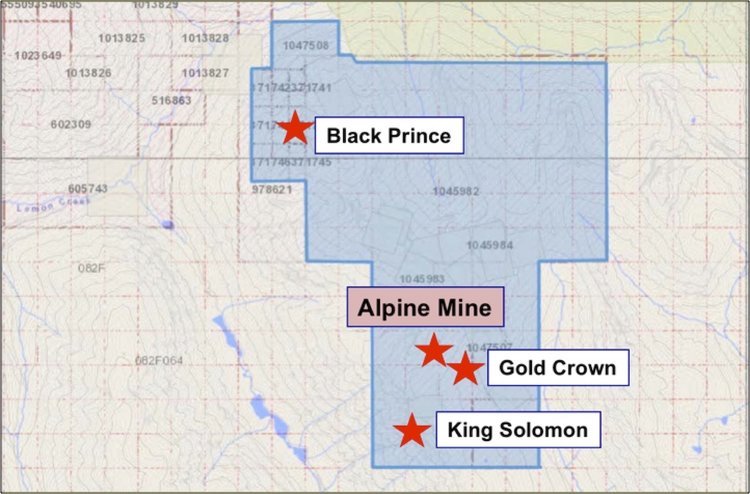 About Braveheart Resources Inc.
Braveheart is a Canadian based junior exploration company focused on building shareholder wealth through aggressive exploration in a favorable and proven mining jurisdiction - the West Kootenays in southeast British Columbia (silver and gold). Braveheart's shares are listed for trading on the TSX Venture Exchange under the symbol BHT.V. Braveheart has approximately 29,714,505 common shares issued and outstanding.
Qualified Person
Braveheart's disclosure of a technical or scientific nature in this news release has been reviewed and approved by Mr. Jim Decker, P.Eng., a director of Braveheart who serves as a qualified person under the definition of National Instrument 43-101.
Contact
David W. Johnston, President and CEO, Director
403-701-2781
davidwjohnston@shaw.ca
Website: http://www.braveheartresourcesinc.com
Caution Regarding Forward-Looking Information
This news release includes certain information that may constitute "forward-looking information" under applicable Canadian securities legislation. Forward-looking information includes, but is not limited to, statements about strategic plans, future work programs and objectives and expected results from such work programs. Forward-looking information is necessarily based upon a number of estimates and assumptions that, while considered reasonable, are subject to known and unknown risks, (more) uncertainties, and other factors which may cause the actual results and future events to differ materially from those expressed or implied by such forward-looking information and the risks identified in the Company's continuous disclosure record. There can be no assurance that such information will prove to be accurate, as actual results and future events could differ materially from those anticipated in such information. Accordingly, readers should not place undue reliance on forward-looking information.
All forward-looking information contained in this news release is given as of the date hereof and is based upon the opinions and estimates of management and information available to management as at the date hereof. The Company disclaims any intention or obligation to update or revise any forward-looking information, whether as a result of new information, future events or otherwise, except as required by law.
Neither the TSX Venture Exchange nor its Regulation Services Provider (as that term is defined in the policies of the TSX Venture Exchange) accepts responsibility for the adequacy of this news release.